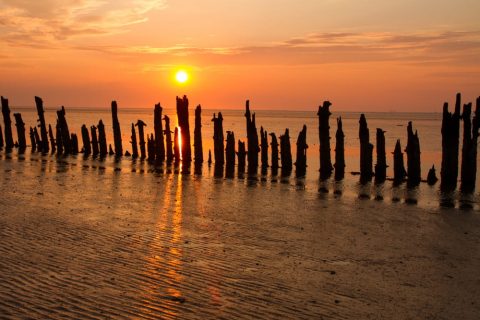 Program:
Becouse of the Corona virus this journey has been moved from May 20 to Saturday, June 27th until Sunday June 28th. The tide and sunset are just right!
On Saturday, June 27th, at 18:00, we welcome you in Harlingen. After an introduction of the crew and Harmen we set sail for an evening trip on the Wad. Along tell Harmen and his assistant about the best way to create landscapes. Around 21:00 h. we let us jam on a plate. The sun sets at 22:05 pm and we hope that we can then shoot some nice pictures. Hopefully we can even capture the stars at night on film. It is a dark night with no moon. Of course you can also enjoy in the hold with a drink. Or just sleep in the sleeping area of ​​the hold. But then set the alarm because at 5:09 am the sun comes up and then we can also be shot the necessary pictures. Meanwhile, our hostess preparing a delicious breakfast  with warm rolls and a boiled egg. Then we sail again about our beautiful Wad. Perhaps we see the seals or breeding Kentish Plovers. We can hereby use binoculars Camera Shop Foto Sipkes: 86 years a great name in Groningen! On the way there is much to see and photograph. Finally we come to Harlingen around 10:00 am.
Harmen Piekema and his assistant will be available throughout the journey for instructions and questions.
Cost EUR 249, – per person
This includes:
Opinions of Harmen Piekema and assistant Remco Stunnenberg
Crew Willem Jacob
Breakfast
Sheets